Reduce Cost, Waste and Risk
As the market leader in sterile containers, Aesculap can help you lower operating expenses, support green purchasing initiatives and ultimately improve patient outcomes. Sterilization container system products by Aesculap are recognized by thousands of satisfied customers around the world for their quality. Aesculap offers an extensive range of containers, baskets and accessories to meet all of your instrument sets and reprocessing requirements. Deliver the right instrument set, to the right place, on time with the Aesculap SterilContainer System™.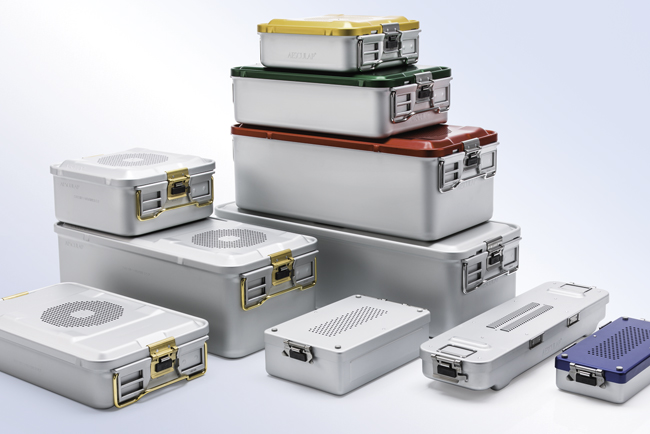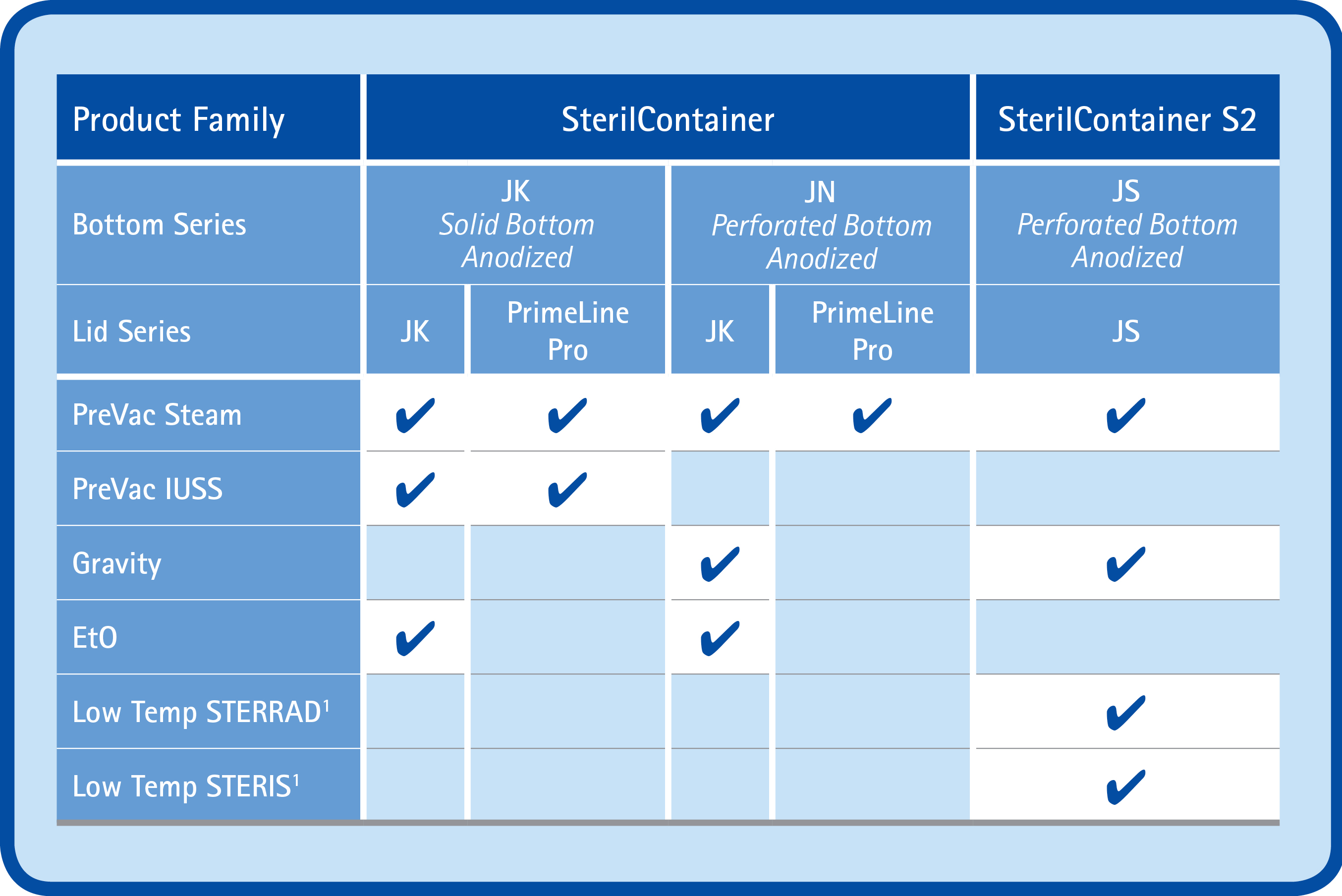 Standardize Your Containers
Aesculap has more than 10 FDA Clearances allowing you to standardize on one brand of sterile containers. Standardizing your containers can reduce product and process variability and may lead to:
Increased efficiencies in the OR-SPD reprocessing cycle
Simplified documentation process
Reduced costs and waste
Simplified training of new employees
Reduced OR-SPD employee stress
Improved patient outcomes due to a lower chance of errors and case delays
Aesculap SterilContainer System Benefits
Extensive range of container sizes and heights to meet all your instrument sets requirements
Lightweight aluminum construction that is 15% to 20% lighter than leading competitors helps you meet AAMI 25lbs weight recommendation
90° Stop handle protects staff from finger injuries during handling.
Single motion latch design secures container quickly to reduce time and hassle in SPD and OR
One step retention plate with audible "click" secures filter to simplify operations and improves processing time
Able to containerize pre-configured instrument sets including orthopedic, spine and specialty medical devices
Undisputed rigid sterile container leader in quality and features provides you the confidence over the 10+ year service life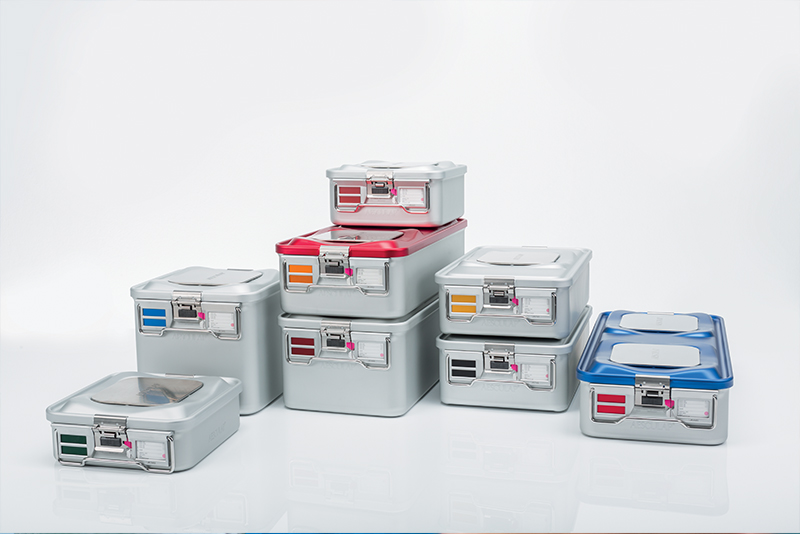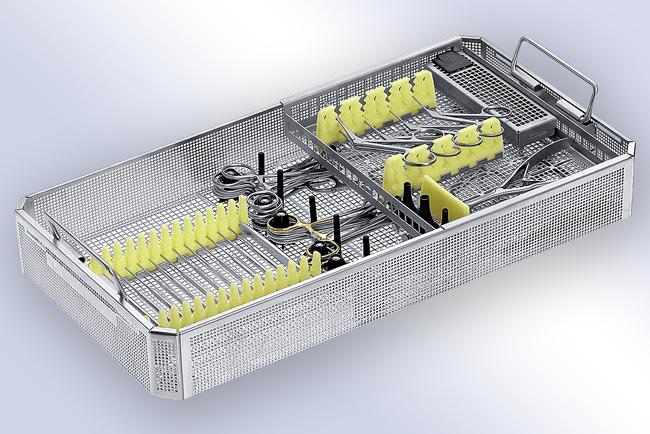 Baskets
Aesculap offers a wide range of baskets as well as the largest selection of Instrument Organizational System (IOS) pieces which allow you to customize your own instruments sets.
Benefits of organized instrument sets:
Extend instrument life by securing and organized instruments so they are less likely to be damaged during processing and transportation 
Maximize instrument set availability through fewer required repairs and increased life span
Increases OR efficiency by allowing staff to quickly identify and select the correct instrument reducing surgical case time
Pre-Configured Trays
Aesculap also offers pre-configured trays for specialty products like the da Vinci SP Scope, Aesculap spine retractors and more.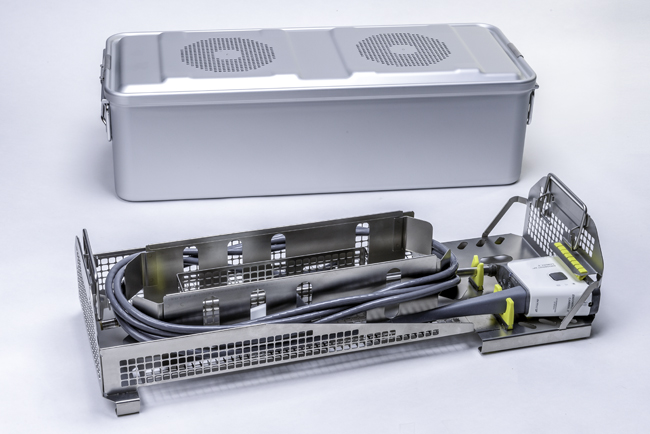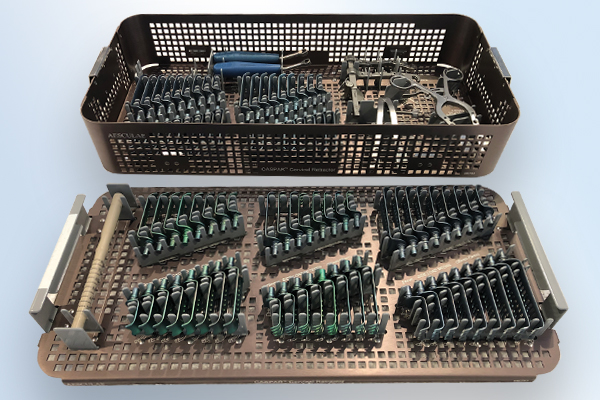 Third Party Compatibility
Aesculap is the leader in rigid sterile containers. Most leading orthopedic, spine and specialty instrument manufacturers have performed validation testing in our containers. Please review the current IFU from the medical device instrument manufacturer to confirm they meet the parameters required to containerize their sets.