MIN Set
Surgical procedures that reduce patient trauma have made minimally invasive procedures one of the main trends in surgery. However, the protection of the close-by organ regions and prevention of functional deficiency remain a challenging task. For this reason, we have designed a specially dedicated set of fine instruments – the Aesculap MIN set.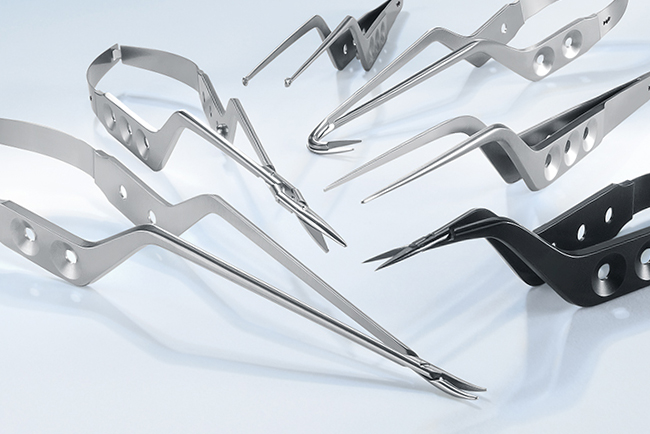 MIN Instruments
Over 60 micro instruments designed for minimally invasive procedures
Fine instrument tips for working in narrow spaces and around sensitive structures
Golf ball handle design improves grip
All instruments have the NOIR™ coating
Krisht Transsphenoidal Neurosurgical Instrument

Comprehensive selection of over 75 instruments
Designed to meet all clinical needs from basal exposure to tumor resection
Rotatable ring curettes offer flexibility and reduce the number of required configurations
Krisht Microvascular Neurosurgical Instruments

Comprehensive selection of instruments for delicate microvascular anastomosis procedures
Wide spectrum of coverage - high and low flow bypasses
Efficient system with color-coded instruments and trays
Al Mefty Skull Base Neurosurgical Instruments

Designed to incorporate ergonomic principles that enhance precision and dexterity
Shaft is optimized for precision grip and fine movements
Sharp tips allow for precise dissection, while a blunt outer contour protects surrounding tissues
YASARGIL microform Micro Instruments
Gold standard designed by Prof. Gazi M. Yasargil - a "must have" for every micro neurosurgeon.
Advantages
Improved view due to bayonet-shaped instruments
Secure grip – reliable grasping and holding due to finger molds
Superior balance – drill holes for lower weights
Good hand support between thumb and index finger
Features
Bayonet-shaped instruments
Drill holes for lower weights
Scissors straight, curved up, curved down, angled sideways and serrated
Forceps, straight, serrated
Tumor grasping forceps, spoon-shaped, serrated, curette-shaped
Needle holder, straight and bent up
YASARGIL micro instruments are available in various lengths
Micro Coil Scissors
Standard scissors can be damaged when cutting coils, whereas the micro coil scissors, with its robust blades, cuts the wire smoothly.
Advantages
Smooth cutting of coil wires 
Serrated blades prevent the coil from slipping out of the jaws 
Ideal for tough tissue as well 
Perfect force transmission – less force to be applied for cutting hard wires
Features
Micro scissors made of high quality surgical steel
Extremely robust and serrated cutting blades
Double hinge for a perfect force transmission
Color coded instrument stop button to limit opening width
Handle with finger molds offers a safe, balanced grip with high comfort
SENSATION Micro Instruments
SENSATION micro instruments are characterized by their sensationally fine tips.
Advantages
Extra delicate and fine jaws for delicate microsurgery
Angled bayonet shape for enhanced sight lines
Color-coded handles for easy identification and textured handles for ergonomic grip
Slender jaws for optimal visibility and access to tight corridors
Features
NOIR™ Scissors to reduce light reflections
Scissors with straight, curved up, curved down or angled cutting blades
Certain scissors with sharp/sharp, sharp/blunt or blunt/blunt tips
Forceps with fine tips, teeth or serrated tumor grasping tips
Needle holder for needle sizes of 7/0 or smaller
Available in different tips, working length and different sizes
XS Micro Instruments
Extremely thin shaft design and, thereby, almost completely unobstructed view and – ideal attributes for operations in particularly narrow sites.
Advantages
Extremely slim instrument due to axial tubular shaft construction
Bayonet handle and jaws allow a perfect view
Extremely fine working ends
Replacement of individual components
Features
Scissors in a straight and curved version
Forceps and Tumor grasping forceps in bayonet shape
Disassemble into two components
Diamond Knives - Brilliant cutting precision through ultra sharp diamond blades
Outstanding cutting properties for extremely clean, precise and force-free incisions.
Advantages
High stability and resistance to wear due to blades made of natural diamond
Exceptional sharpness – virtually force-free incisions
Smooth cut – no tearing during incisions
Good visual control during incisions
Features
Ergonomic titanium handle
Color code for easy identification of blade geometry
Blade retractable in handle for safe storage
Connector for reprocessing, to rinse the instrument
Diamond knives are available in four different blade geometries: round, retro, 45° wedge and lancet blades
EC/IC Bypass Instruments
Special Instruments for ExtraCranial/IntraCranial bypasses.
Round golf ball handle design ... secure grip ... easy rotation
Fine instrument tips, which are particularly important for these anatomical conditions
Adapted working lengths (short, medium, long)
NOIR, No Irritating Reflections. The aesthetic black Noir® surface coating effectively prevents disturbing light reflections
Micro scissors for very fine, delicate incisions, e.g. to expose fine vessels in bypass surgery
Micro forceps for grasping fine, delicate tissue, e.g. to hold the vessels during anastomosis in bypass surgery
Needle holder for grasping fine needles and suture material for suturing in bypass surgery
Vessel punch for punching holes in vessels for subsequent anastomosis
AVM clip applier forceps for applying AVM clips