Suction Cannulas Portfolio
From the classic suction instrument for neurosurgery to very fine suction instruments for narrow approaches, Aesculap offers a portfolio of suction cannulas to meet your needs.
FUKUSHIMA-Design Suction Cannulas
By its drop shaped suction interrupter, FUKUSHIMA-Design suction cannula ensures excellent fine control of the suction power.
Advantages
Extremely fine suction control due to tear drop shaped suction interrupter
Individual adaption of the suction tube due to bendable material
Conical suction tube prevents plugging
Atraumatic distal tip
Features
Conical suction tube made of malleable material 
Suction cannula supplied complete with stylet 
Large and clear labeling of outer diameter and length on the thumb plate, for quick and easy identification
FUKUSHIMA-Design suction tubes are available in 4 lengths and 8 diameters – 3 to 12 French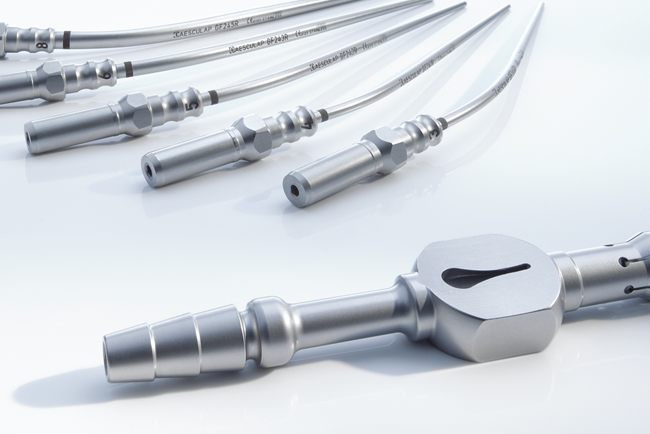 RAABE Micro Suction Cannulas
Our special atraumatic micro suction cannulas for neurosurgery – for gentle and safe preparation with the rigid cannula.
Advantages
Fine suction devices for even the narrowest approaches
Very stable suction tube for retraction and suction
Ideal for precise dissections
Atraumatic instrument tip
Features
Drop shaped suction-interrupter
Coded widths and lengths
Micro suction cannulas are available in three different diamaters and four different lengths
Modular Suction Cannulas
Greater cost savings and flexibility coupled with familiar strengths
Damaged suction tubes can be replaced individually
Greater freedom for even more flexible use
Tear drop shaped thumb control offers very precise suction regulation
Malleable material for individual forming of the suction tube
Conical design of the tube reduces plugging
FERGUSSON Suction Cannulas
FERGUSSON suction cannulas with their round, thumb-operated suction interrupter are the classic suction instruments for neurosurgery.
Advantages
Stable suction tube for retraction and suction
Grip plate with suction interrupter for controlled suction power
Ergonomic handling due to 90° angulation between grip plate and suction cannula
FERGUSSON suction cannulas are in 4 lengths and 6 diameters – 1.5 to 5 mm available