MINOP® (Minimally Invasive Operating Procedure)
Offering more for patients through less invasive techniques
For more than 140 years, Aesculap Neurosurgery has developed products that expand surgical possibilities for surgeons worldwide. We understand that advanced techniques require cutting-edge technology, quality craftsmanship and worldwide education. Our commitment to these core principles has made Aesculap a leader in neurosurgery as well as the benchmark for continued education.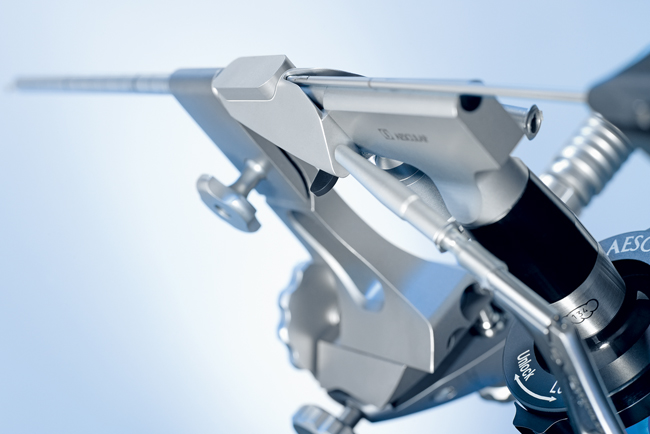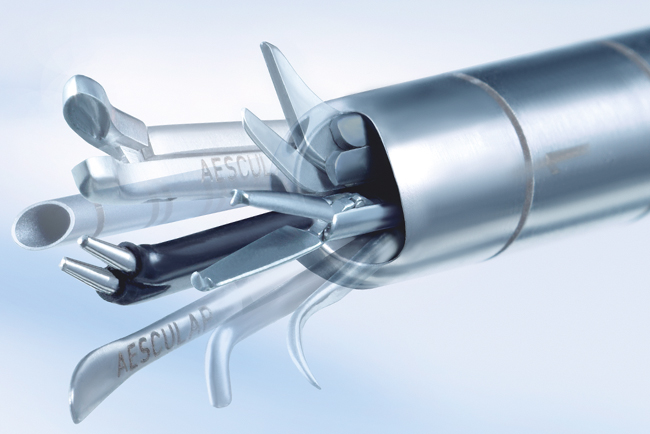 MINOP InVent Neuroendoscopy System
Our latest addition to the MINOP family pushes the boundaries of neurosurgical techniques by offering a solution for bi-manual resection of solid tumors and cysts. The unique large working channel provides additional flexibility and our customized instruments expand the possibilities for the future of advanced neuroendoscopy.
Benefits
Features a 30º scope with advanced HD optics and resolution
Allows for bi-manual resection of solid tumors and cysts
Offers greater flexibility through a larger working channel
Enhances ability to perform hemostasis and coagulation
Provides 18 unique instruments tailored for the system
MINOP Modular Neuroendoscopy System
The MINOP system is a multifunctional, modular neuroendoscopy system designed primarily for intraventricular indications, such as Hydrocephalus and the removal of tumors and cysts. It consists of three different trocars for diagnostic and therapeutic purposes, two different endoscopes, and several instruments, electrodes (bipolar and monopolar), and accessories. Its unique angled design makes the MINOP system easy to handle and universal in use.
Benefits
FULL HD compatible endoscopes with different directions of view (0°, 30°)
Blunt distal tip of trocar and depth marking for atraumatic insertion
Straight working channel for rigid instruments increase control and precision
Rotation knob for easy and precise rotation of jaw part of rigid instruments
Flexible instruments for bi-instrumental working (with both hands)
Detachable instruments provide the ability to exchange spare parts and aid in reprocessing
Lateral connection of cables for unhindered view along trocar shaft
PaediScope® Pediatric Intraventricular Endoscopic System
The design of the PaediScope with a long flexible cable removes the weight of the occular and camera head away from the operating field. This improves ergonomics and freedom of manipulation inside the ventricles. The surgeon can hold the PaediScope® like a pencil and concentrate on the delicate structures inside the ventricles. The rigid shaft provides perfect control and precision. A disposable introducer set (also known as peel away) facilitates the process of introducing the PaediScope through the brain parenchym.
Benefits
30,000 pixel fiber optic for unsurpassed picture quality
Lightweight design for high ergonomics and control
Specially designed flexible instruments for paediatric patient, 1.0 mm outer diameter
All components autoclavable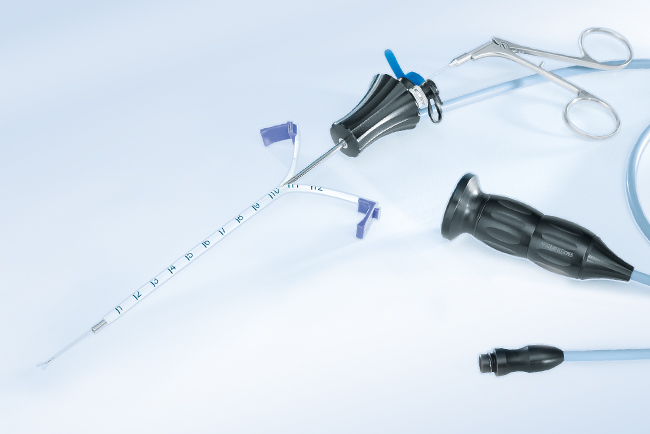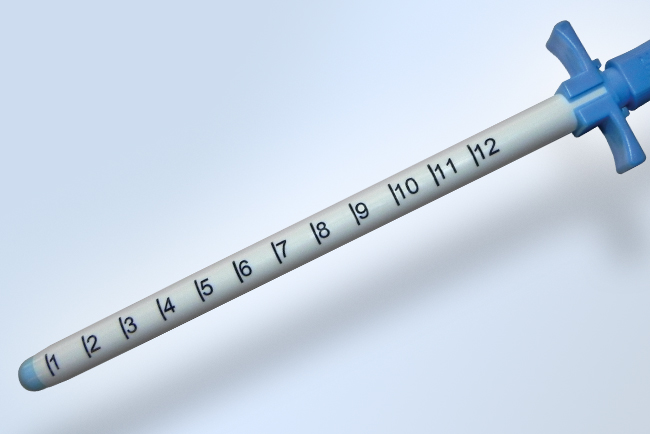 Disposable Introducer Set
The Disposable Introducer (also known as Peel Away) facilitates the process of introducing our endoscope systems (MINOP® Trocar FF399R, MINOP InVent Trocar FH620R and PaediScope® PF010A) into the brain respectively the ventricles. The depth scaling increases the security while introducing the endoscope, and the sheath of the introducer protects the cerebral tissue while inserting and withdrawing the endoscope during an operation.
Benefits
Round and blunt obturator tip for atraumatic insertion into the brain
Introducer sheath protects the brain while inserting and removing the scope/trocar
Depth scale for precise positioning and perfect control inside the ventricles
Easy to peel with side handles