Aesculap is the most trusted name in aneurysm clips.
Since their introduction in 1968, more than 2 million Yasargil® aneurysm clips have been implanted worldwide. All Yasargil aneurysm clips are manufactured at Aesculap facilities in Tuttlingen, Germany under the control of experienced and knowledgeable craftsmen. Aesculap offers more aneurysm clip patterns than any other vendor (more than 55 aneurysm clip appliers and more than 320 temporary and permanent aneurysm clip designs), making treatment of challenging aneurysm shapes and sizes possible.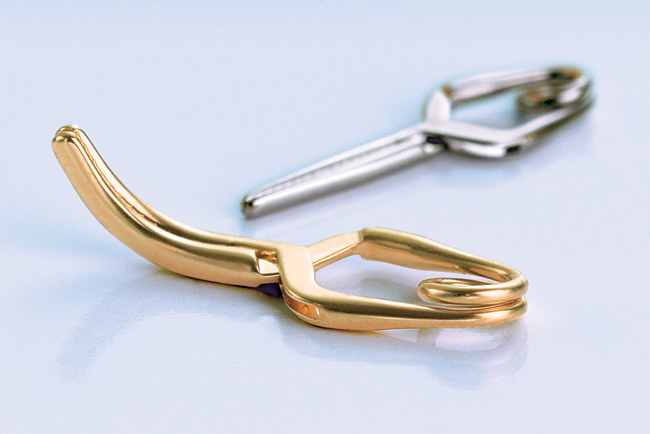 Titanium and Phynox Aneurysm Clips
Aesculap Yasargil aneurysm clips are non-ferromagnetic, MRI-Safe (3-Tesla or less) implants crafted from Titanium or Phynox alloy.
Available in standard and fenestrated styles
Color coded with gold or silver blades (temporary or permanent clip)
Low profile aneurysm clip blades provide increased visualization of the cerebral anatomy
Atraumatic, pyramidal design doubles the surface area available for contact with vascular tissue, prevents slipping and avoids damage to fragile vascular tissue
Unique box lock mechanism ensures smooth movement and precise guidance of aneurysm clip blades to prevent scissoring
High closing forces of up to 200 grams provide optimal aneurysm occlusion
Clip appliers are available in classic and minimally invasive models and feature a low-profile, bayonet-shaped design for improved visualization
All Aesculap aneurysm clips are supplied sterile and ready to use. Aneurysm clip trays (full and half-size) with press-in identification tags make aneurysm clip transport, storage and sterilization easy.
Specialty Aneurysm Clips
Aesculap is proud to offer specialty clip patterns and appliers for the most unique treatment needs.
T-Bar Clips with angled blades resulting in a T-shape design available in both phynox and titanium
Ultrashort fenestrated clips (nub clips) available in both phynox and titanium
Fenestrated mini clips available in titanium
Long clips available in phynox
Reinforcing "booster" clips available in both phynox and titanium
Vario clip applier with articulating jaw available for both titanium and phynox clip patterns
XS clip applier with slim, rotating shaft available for both titanium and phynox clip patterns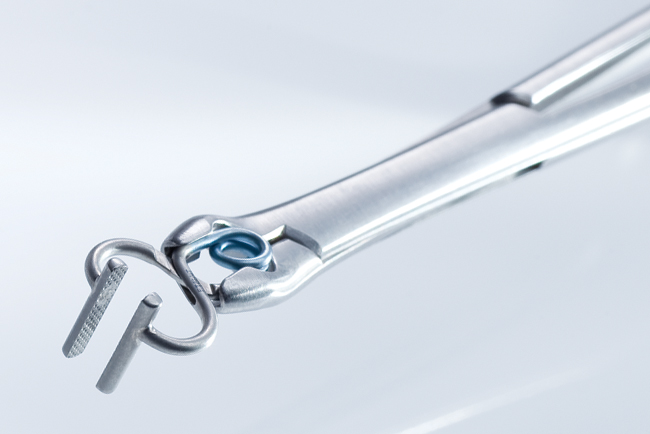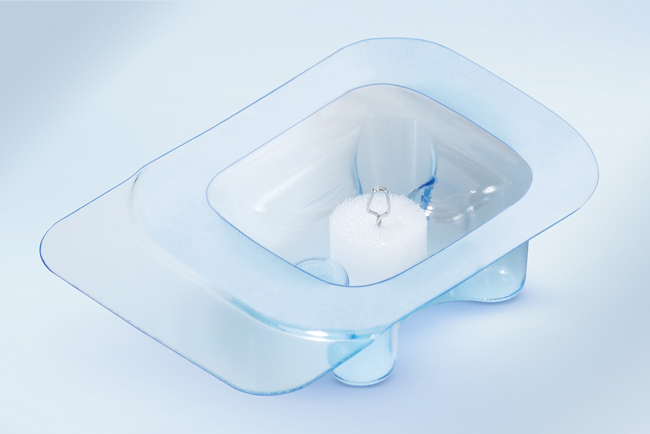 AVM Microclip System
Clips for microsurgical treatment of arteriovenous malformations
The AVM Microclips are offered in a complete line of straight and curved patterns in a variety of blade lengths. These clips may be applied for temporary occlusion or as a permanent implant. All clips are supplied sterile and are available in MRI-Safe, on-ferromagnetic Phynox. AVM clips appliers are also available in XS and standard designs.
AVM Micro Clips are designed clips for the microsurgical treatment of angiomas. They exert a pre-defined closing force of between 50 to 70 grams and feature a special pyramid-shaped structure stamped on the inner blade surfaces. This surface structure allows the tissue to sink in between the pyramid shapes and thus doubles the contact surface for the tissue, ensuring that the AVM Micro Clip always has a secure grip of the vessel.
Advantages
Blade profile for a secure grip of the vessel
Immediately ready to use
No reprocessing costs
Features
Sterile packed
Made of Phynox
4 different blade lengths (2, 3, 4 and 5 mm)
Straight and curved clips available
XS- and bayonet-shaped applier